Include everyone! Join the 4th IRTS Network Webinar on 15 September
06/09/2021
By Monika Resetar, ISCA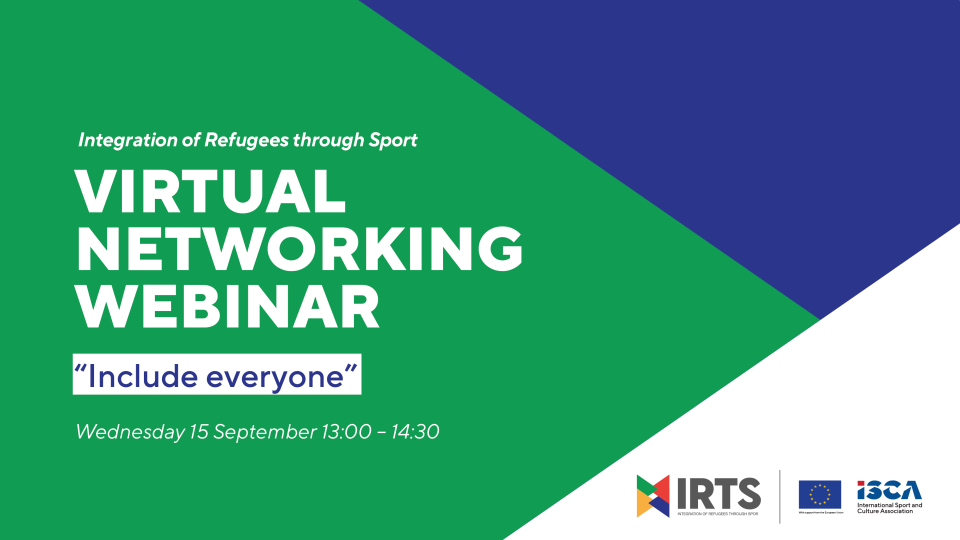 Our next Integration of Refugees Through Sport Network webinar on 15 September from 13.00–14.30 CEST is called "Include everyone!", where we will introduce two organisations from Austria and Romania that will present their work with specific target groups of refugees and migrants.
Kurt Wachter from the Vienna Institute for International Dialogue and Cooperation (VDC) will share his experience from the project 'SPIN Women'. He will be joined by one of the researchers from 'Action research for inclusion', who will share her findings of research that was done within the women refugees and migrants in sports. Cristina Vladescu from Terre des hommes organisation will share with us experiences of working with children and families affected by migration, refugees and asylum seekers, safeguarding children in sports in Romania, Egypt, Jordan and Albania.
In the second part of the webinar we will divide into 2 groups with the presenters, where you will be able to share your experiences, challenges and possible solutions working with different target groups within the refugees and migrants.
About ISCA's IRTS Network webinars
ISCA's Integration of Refugees Through Sport (IRTS) Networking Platform, which has already connected more than 70 EU project leaders and stakeholders in sport and inclusion, is currently making online opportunities open to even more people working in this field to meet, learn, gain recognition for their initiatives, and connect with each other.
The main goal of the webinars is to share experiences and make connections between organisations working with refugees. At the same time, the webinars will contribute to the creation of the second IRTS online course: Learning from experts and examples.
Before summer we hosted 3 webinars and you can find the recaps and recordings via the links below.
COVID-19 or when control and planning are overrated
Join us and sign up for the webinar here
Coming up - next webinar:
10 November 13.00 – 14.30 CET
Work together for a bigger impact!
Collaboration and cooperation between different organisations, clubs, local authorities, schools and other stakeholders is important and can make a bigger impact on the target group as well as the local setting. We'd like to showcase examples of how that can be done.
Registration will open 2 weeks before the webinar. Follow https://irts.isca.org/ for more information.

If you have any questions or would like more information about the webinars or IRTS online learning, feel free to contact Monika Resetar mr@isca-web.org.