Webinar recap: 'Never stop learning!'
14/05/2021
Maria Malyshkina, ISCA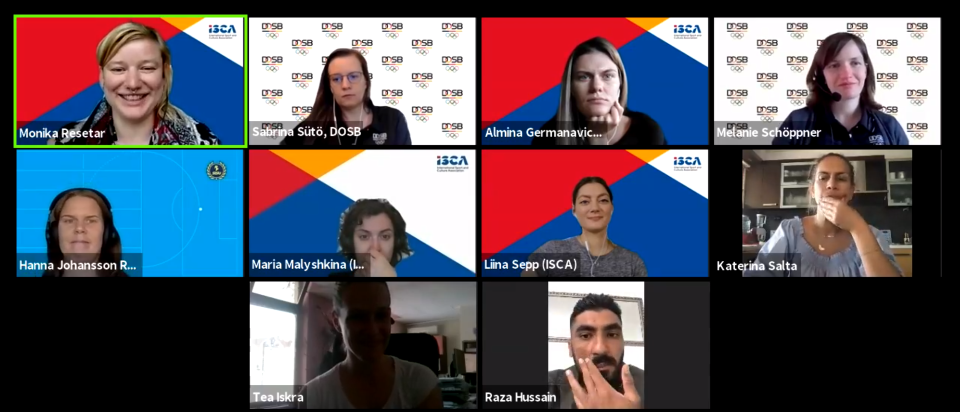 ISCA continues to connect people who are working in the field of sport and inclusion through the Integration of Refugees Through Sport (IRTS) Networking Platform. On 12 May we hosted the webinar 'Never stop learning!', one of a series of networking webinars that are connecting EU project leaders and stakeholders in the field throughout 2021.
For this webinar, we invited three organisations to showcase their examples and experiences with organising training for refugees and trainers in various forms.
The first speakers were Melanie Schöppner, Alexandra Kreutel and Sabrina Sütö from the German Olympic Sports Confederation (DOSB), Germany with their project 'SMILE: digital teaching and learning for integration in sports'. The project aims at developing competence-based training modules for trainers and consequently setting quality standards for integration work in sports.
Alexandra explained the concept of a 'blended learning format', which they used to design the training modules – a format that was so timely to be implemented at the time of the pandemic. But it is also more than just a 'corona solution', comprising elements of online learning and face-to-face teaching that complement each other by combining different methods and media. Alexandra also gave a brief insight into the content of the training course and how they currently implement the concept with one of the partners.
Hanna Johansson from RF-SISU / StreetGames, Sweden was the next to share how her organisation works with leadership and why StreetGames is so efficient in helping young people, including refugees, achieve their goals. Starting from explaining the concept of Folkbildning (or popular, non-formal adult education), Hanna showcased the unique system of leadership steps and how it helps to create leaders and role models in sport through education, networking and exchange. Rules established within the team of trainers help to sustain the good atmosphere required for developing future leaders.
Tea Iskra from Taekwondo klub Jastreb, Croatia concluded the first part of the webinar by presenting the results of their sport summer camp, organised through the EU project 'Sport education for life'. Tea shared an inspiring video with highlights from the camp, and talked about how participating in this project helped refugees overcome their fear and mistrust. Not only did the refugees take part in the activities, but they also participated in workshops with psychologists, which helped them accept challenges such as cultural differences in exercising and other rules that might be new for them.
In the second part we opened the floor to questions and discussions in smaller groups, where the participants could share their experiences and learn from the others, at the same time making connections between organisations working with refugees.
In the upcoming months of 2021 we will hold more networking webinars, so SAVE THE DATES below and keep an eye on https://irts.isca.org/ or sign up to our newsletter for more information.
Step up with refugees!
Refugees need to be included and involved in activities as protagonists. Being proactive in sport can also help refugees gain various skills that can later contribute to their employment, education or training; therefore, we'd also like to showcase examples of that.
23 June 13.00 – 14.30 CEST
Include everyone!
Among refugees there are various target groups that need different approaches. We'd like to share examples of involving female refugees, children, families, refugees with disabilities/special needs, LGBQTI, seniors, etc. in community sport.
15 September 13.00 – 14.30 CEST
Work together for a bigger impact!
Collaboration and cooperation between different organisations, clubs, local authorities, schools and other stakeholders is important and can make a bigger impact on the target group as well as the local setting. We'd like to showcase examples of how that can be done.
10 November 13.00 – 14.30 CET
Registration will open 2 weeks before the webinars. Follow https://irts.isca.org/ or sign up to our newsletter for more information.

If you have any questions or would like more information about the webinars or IRTS online learning, feel free to contact Monika Resetar: mr@isca-web.org.