New advocacy campaign urges sport and humanitarian organisations to work together with refugees
Posted November 16, 2020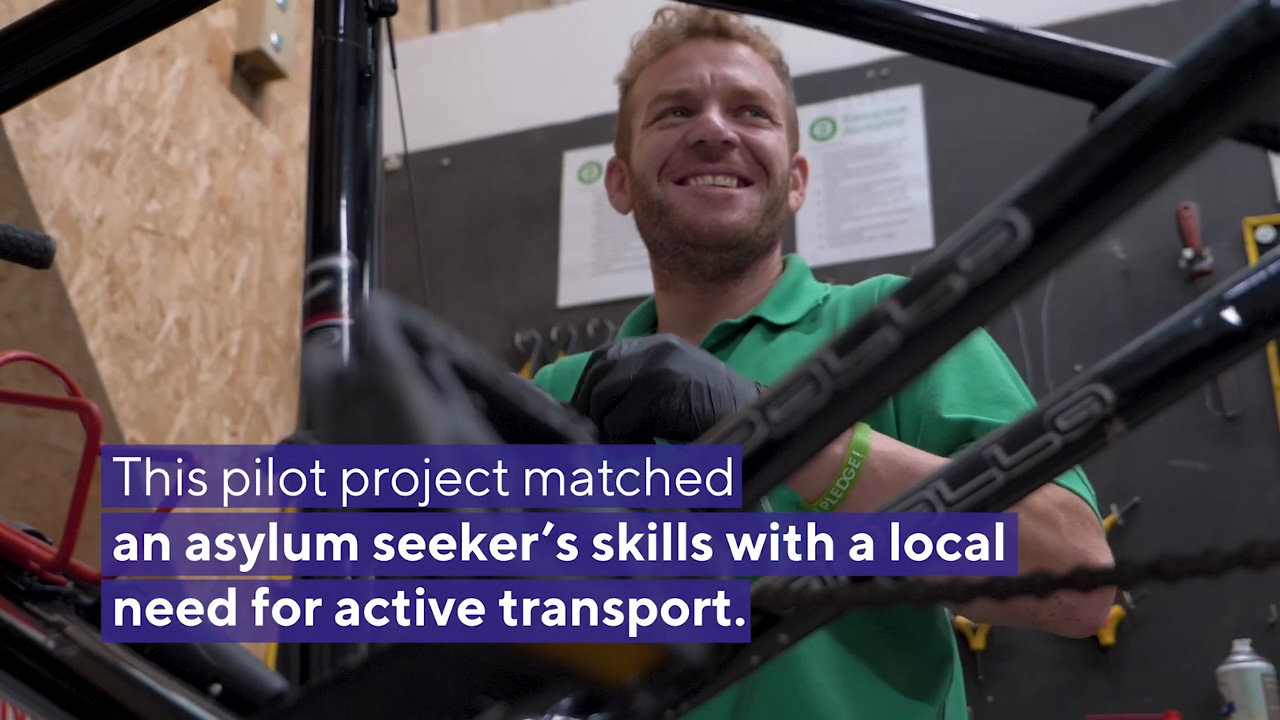 Rebuilding after the Covid-19 pandemic could be equally difficult for community groups and sports clubs that are trying to restart their activities, and even harder for refugees who are trying to find a way to integrate in local social life. Fear, isolation and cost are likely to be the biggest barriers. So why not restart with an inclusive strategy to work on the solutions together?
Our new MOVE Beyond advocacy campaign is putting the spotlight on how and why different actors should work together – and with refugees – on Integration of Refugees Through Sport initiatives. Speaking from first-hand experience, 11 sport and non-sport organisations are urging their peers to MOVE Beyond their comfort zones, reach out to each other and include refugees in designing the activities that are intended to help them.
Visit our MOVE Beyond homepage to access a range of resources that are part of the campaign:
A guide to conducting focus groups for and #WithRefugees
Recommendations for collaboration between sport and non-sport organisations
Four podcasts with case examples
Two campaign videos
Social media visuals and quote cards
Four winning approaches to Integration of Refugees Through Sport
Collaboration is the future of working on Integration of Refugees Through Sport because many sport and humanitarian organisations complement each other. If you have the same goals, why not #PlayTogether?
Our Integration of Refugees Through Sport: MOVE Beyond partners have proven that sport and non-sport organisations can achieve more by collaborating and adopting four winning approaches:
WELCOMING: Open up your organisation to include new target groups
EMPOWERMENT: Work with refugees, not for them
COMMUNITY: Involve the community, build the community
BRIDGING: Improve refugees' access to sport and physical activity
Discover how these key ingredients can be your recipe for success in Integration of Refugees Through Sport – download our infographic.
Empowering refugees to be active in their new communities
Get ready to be charmed by Ronnei and his story in the video below.
Ronnei is a Kurdish refugee who is working as a bicycle mechanic at Bikespace in Plymouth, UK. When lockdown brought sports activities in the UK to a halt in March, the importance of active transport grew as an alternative way of exercising and getting from A to B – particularly among refugees and asylum seekers in Plymouth.
The MOVE Beyond project's UK partners SPARC, Devon & Cornwall Refugee Support and StreetGames made active transport the focus of their pilot project, linking Ronnei with Bikespace and a goal to repair donated bicycles for refugees in the community.
"I take in the bikes, bring them in for Bikespace, fix them and after that give them to people. It makes me feel so happy," Ronnei explains. The experience also brought him employment at the end of the pilot.
Hear how our UK partners achieved success with their approach – despite the challenges of 2020 – in our podcast https://isca.podbean.com/e/move-beyond-podcast-episode-3/
Listen to more MOVE Beyond podcast episodes at https://isca.podbean.com/
The MOVE Beyond project's multiplier advocacy event will take place online during the Integration of Refugees Through Sport Network Conference on 17 November. You can watch a live stream of the event at https://www.facebook.com/ISCApage/ from 9am CET.
MOVE Beyond is a project supported by Erasmus+ Sport Collaborative Partnerships.
Partners: ISCA (lead), University of Copenhagen's Advanced Migration Studies (Denmark), Demos (Belgium), DGI and the Danish Red Cross (Denmark), UISP Trentino and ATAS (Italy), RF-SISU Västra Götaland/StreetGames Gothenburg and Save the Children Sweden (Region West) (Sweden), and StreetGames and SPARC Sport (UK). Devon and Cornwall Refugee Support is a local supporting partner in the UK.