Meet our Integration of Refugees Through Sport mentors and mentees
Posted October 13, 2020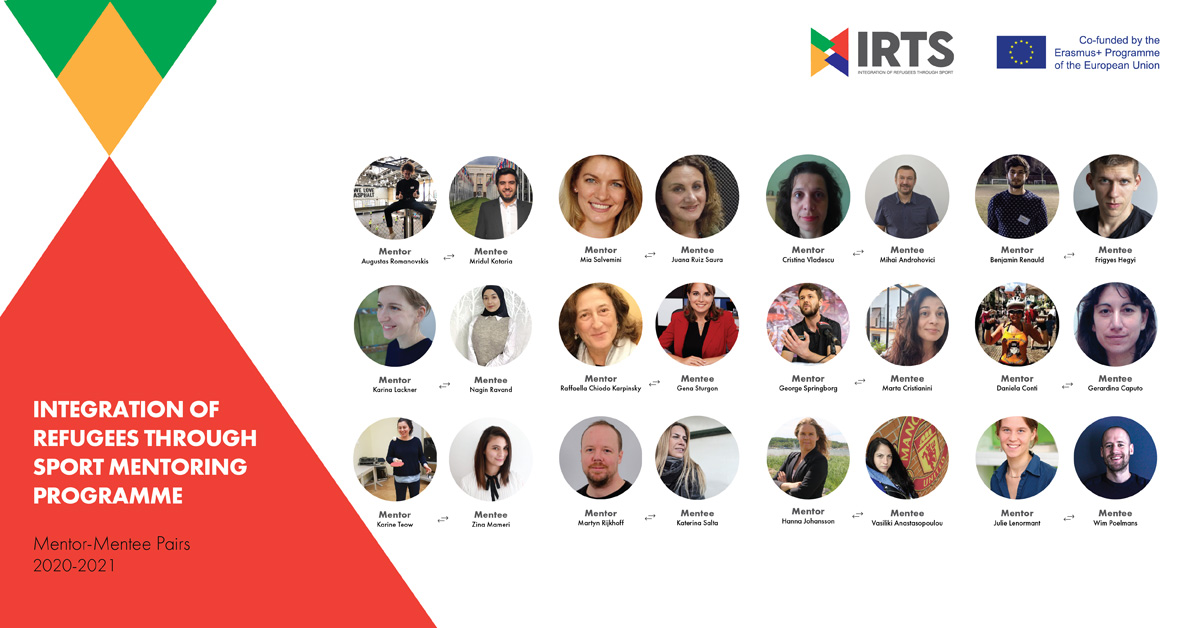 ISCA's Integration of Refugees Through Sport (IRTS) Mentoring Programme is now under way with 12 mentor-mentee pairs commencing their 12-month mentorships online in September. With the participants being based in 15 different countries around Europe, most are awaiting their first chance to meet in-person, as national restrictions and regulations allow, in Copenhagen in November.
The Integration of Refugees Through Sport meeting and one-day conference in Copenhagen will be held in a hybrid format, with speakers and members of the IRTS Network and Mentoring Programme and partners of ISCA's MOVE Beyond project being given the opportunity to participate in all aspects of the programme in-person or online. Currently, gathering limits in Denmark are 50 people, providing there is enough space for physical distancing, and strict guidelines are followed for networking breaks.
Mentoring Programme Coordinator Laura-Maria Tiidla, from ISCA, emphasises how important it is to support people working with refugees in their professional development, particularly as they are facing greater challenges in 2020 in delivering their activities.
"It is vital that we do as much as we can to supporting people working in this field, as refugees and migrants have been affected even worse by the pandemic in terms of isolation during lockdown and limited access to social services and activities. That is why we are trying to explore different options for knowledge sharing and international cooperation through virtual means – and in-person when possible," she says.
The mentees will prepare for the hybrid conference by completing ISCA's IRTS online learning courses and having individual chats with their mentors, who have extensive experience in delivering refugee inclusion initiatives.
The mentor-mentee pairs were matched in September and are:
Mentor: Augustas Romanovskis, Sports Projects Team Leader, Active Youth, Lithuania
Mentee: Mridul Kataria, Researcher/Volunteer, Flag21, Switzerland
Mentor: Benjamin Renauld, Project Manager, Royal Europa Kraainem Football Club, Belgium
Mentee: Frigyes Hegyi, Trainer, Oltalom Sport Association, Hungary
Mentor: Cristina Vladescu, Project Manager, Terre des hommes Foundation, Romania
Mentee: Mihai Androhovici, Vice President, Romanian Federation Sport for All, Romania
Mentor: Daniela Conti, Projecting department, Social policies, International relations, UISP, Italy
Mentee: Gerardina Caputo, Project coordinator, Associazione Sportiva Dilettantistica Dojo Karate Pyros, Italy
Mentor: George Springborg, Head of Network Development, Streetfootballworld, Germany
Mentee: Marta Cristianini, Project Coordinator, Liberi Nantes ASD, Italy
Mentor: Julie Lenormant, Project manager of social innovation projects, Play International, France
Mentee: Wim Poelmans, Programme Manager, Run Free & SPIRIT, Flemish Athletics Federation, Belgium
Mentor: Hanna Johansson, Project Leader at Street Games project, RF-SISU Västra Götaland, Sweden
Mentee: Vasiliki Anastasopoulou, Sports Educator, Organization Earth, Greece
Mentor: Karine Teow, Field programs manager, ITTF Foundation, Germany
Mentee: Zina Mameri, Educational Officer, Fútbol Más, France
Mentor: Karina Lackner, Co-Founder and Programme Director, Kicken ohne Grenzen, Austria
Mentee: Nagin Ravand, Vice-president, Mino Ung Aarhus, Denmark
Mentor: Martyn Rijkhoff, Project manager, Stichting European Football for Development Network (EFDN), the Netherlands
Mentee: Katerina Salta, Co-founder/Manager, Hestia FC, Greece
Mentor: Mia Salvemini, Project Manager, SchweryCade, Switzerland
Mentee: Juana Ruiz Saura, Social educator, Fundación CEPAIM, Spain
Mentor: Raffaella Chiodo Karpinsky, Project Manager, UISP, Italy
Mentee: Gena Sturgon, Founder, Play2EDUCATE, Kosovo
The full bios of the mentoring programme participants can be found here.
If you missed the chance to be part of the Mentoring Programme this time around, a new call will be launched in spring 2021. Sign up to the ISCA newsletter for updates on the next call.
Read more about the Mentoring Programme here