IRTS Networking Platform Conference: Selected sessions now available on-demand
Posted November 19, 2020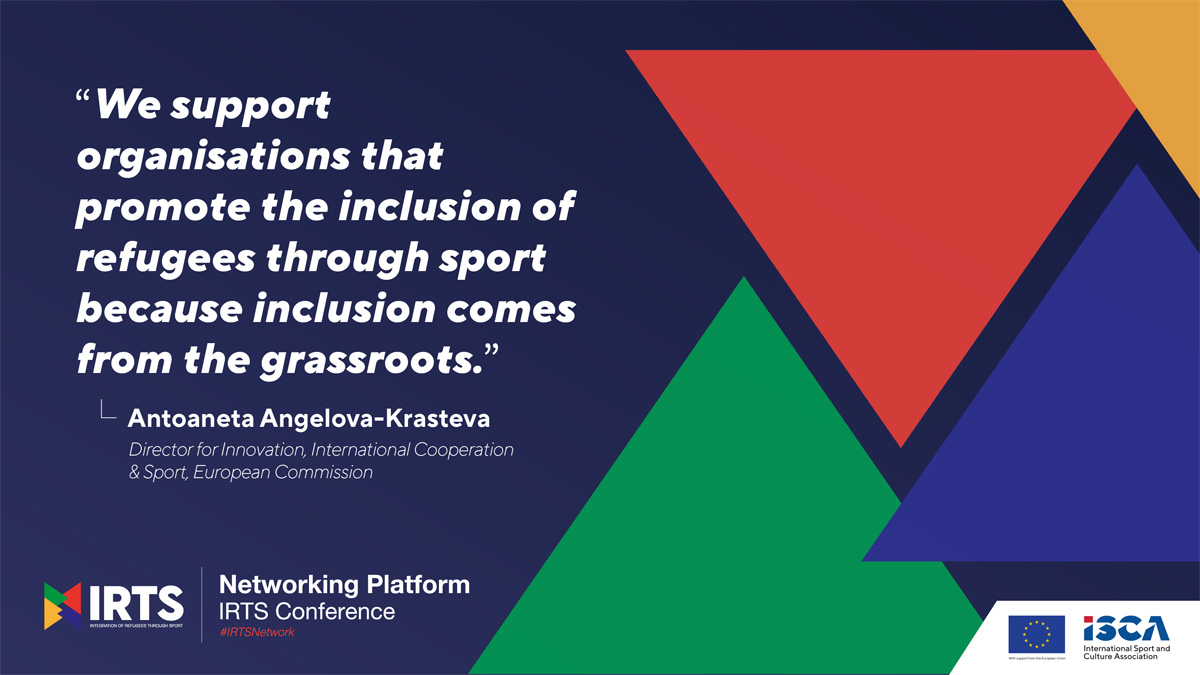 The second Integration of Refugees Through Sport (IRTS) Networking Platform Conference took place - live and online - on 17 November. More than a hundred representatives of 65 sport organisations from 32 countries participated in the sessions, workshops and panel discussions, sharing their outlook on refugee inclusion, health promotion and human connection through sport and physical activity.
Part of the event was streamed live on ISCA's Facebook page, where you can now watch videos of three sessions on-demand, including the Plenary featuring speakers from the European Commission, the UN Refugee Agency UNHCR, the Council of Europe, Save the Children and FARE Network. Check it out to find out what professionals who are working in the field find they are missing in terms of collaboration, how good examples can be used in practice and how to find support for activities on the local level.
Keynote speaker Nick Sore from UNHCR delivered a comprehensive presentation in which he addressed such issues as advocacy for refugee integration in times of COVID-19 and the influence of sport on mental health in general and in the pandemic situation.
The parallel sessions of the conference included workshops devoted to specific issues in the refugee integration and inclusion field, where members of the new IRTS Network had the opportunity to go into detail about practical efforts such as establishing partnerships between sport and non-sport organisations, training trainers, empowering refugee girls and women, and integration within local communities and clubs.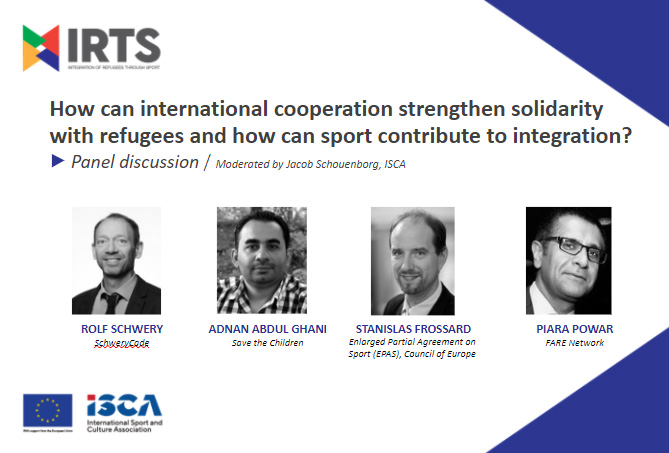 The conference was closed with the panel discussion about the future of the IRTS Network. More discussions and events (be it online, offline or hybrid) will follow in 2021-2022.
Meanwhile, learn more about the IRTS Network, Mentoring Programme, Awards and Online Learning courses at the official website
IRTS Networking Conference videos available on-demand:
Plenary session including 'Sport as a Universal Language' by Nick Sore (UNHCR)
https://www.facebook.com/ISCApage/videos/1266147097101325
MOVE Beyond workshop on 'How to establish partnerships between sport and non-sport organisations'
https://www.facebook.com/ISCApage/videos/3450369441706255
Workshop on 'Sport as a tool for empowering refugee girls and women'
https://www.facebook.com/ISCApage/videos/380320796721205