"The exchange we have is broadening my perspective and ways of thinking"
Interview with Karina Lackner and Nagin Ravand
Posted January 12, 2021
Interview by Maria Malyshkina, ISCA
We are delighted to present the first of a series of interviews with the participants of the Integration of Refugees Through Sport (IRTS) mentoring programme. This month, we talk to Karina Lackner (Co-Founder and Programme Director, Kicken ohne Grenzen, Austria) and Nagin Ravand (Vice-president, Mino Ung Aarhus, Denmark) about their hopes and expectations for their mentoring relationship.
As this pair is strongly focused on empowering women through sport, we asked them to share their opinions on the influence of the COVID-19 pandemic on this target group as well as tools that can help to empower female refugees. Both of our interviewees have recently been recognised for their achievements and granted with prizes and project support. Read more below to get acquainted with Nagin and Karina.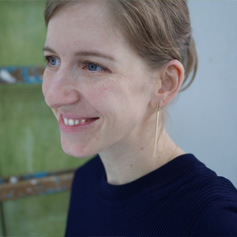 Mentor
Karina Lackner
Co-Founder and Programme Director
Kicken ohne Grenzen
Austria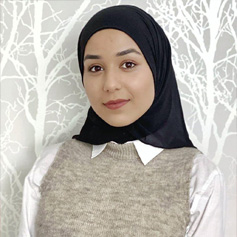 Mentee
Nagin Ravand
Vice-president
Mino Ung Aarhus
Denmark
Nagin, what kinds of skills are you aiming to develop and which goals do you want to achieve with the help of this mentorship?
Nagin: I aim to develop my understanding of how to lead minority groups and to become even more proactive. I believe it is especially important in these times when it can be significantly difficult to get through with traditional ways of practising sports. I hope to expand my network and connect with people worldwide, and gain more knowledge on how others practise their theories – specifically, in the area of female minorities.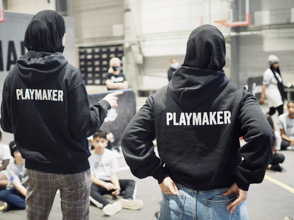 Karina, what encouraged you to become a mentor in this IRTS initiative and what expertise are you bringing to the programme?
Karina: We have been successfully working in the field of football for development with a focus on refugee women for many years. As we started as a voluntary organisation with very limited resources, like many other grassroots projects, I know how important it is to walk that path with people who support your mission. We have benefited a lot from experts, friends, colleagues and network partners who shared their knowledge while we were building up our organisation. Now I would love to support somebody who could use the encouragement the same way I profited from.
Nagin, what have you learned from your mentor, Karina, so far?
Nagin: Karina has shared with me her expertise on how to integrate theoretical knowledge into practical experience. She guides me on how to obtain the full potential of my work through strategic thinking. I think I still have a lot to learn from her, and I hope that her great experience will help me move faster with achieving my goals and developing my personal skills.
Karina, what types of things do you expect to learn – about yourself, your preferred mentoring style or mentoring in general?
Karina: I think we are all quite aware of the fact that a mentoring relationship is always a two-way relationship. Nagin and I are growing through our communication and both of us have the possibility to improve. Listening to my mentee is extremely inspiring and the exchange we have is broadening my perspective and ways of thinking. I'm not only gaining a new friend and colleague for collaboration, but also new competencies to improve my work.
What do you think the 'secret' is to a good mentoring relationship?
Nagin: I think it is the amount of curiosity and the will to learn on both sides. It is important that there is a common understanding of the purpose, and how to collaborate on getting closer to that purpose. I believe that when you have the same motivation and the same goal, then the mentoring relationship will automatically become a friendship.
Karina: In my opinion there are two values that are essential for a good mentoring relationship: respect and trust. You should never forget to respect your mentee's decisions and personal journey, even if you would decide differently. As a mentor you can raise questions, but should never judge. This is the basis for a trusting relationship, which is crucial to making the mentoring process work. Both sides have to be able to open up, for example to talk about failures and mistakes as they are more valuable to learn from than successes.
Your mentoring pair is strongly focused on empowering female refugees. How do you think the COVID-19 pandemic affected/will affect the situation with the integration of female refugees? What could be the tools for empowering female refugees in the view of limitations brought by the pandemic?
Nagin: The pandemic has affected everyone, and thereby also female refugees. It was already a challenge before the pandemic, and now I see that it is mostly females who are not willing to participate in sport activities, even when it is within the state restrictions. It might be because of the extra risks indirectly related to the activities, like taking the bus.
A solution to this problem could be to move the activities closer to the target group, and also to run several controlled sessions with fewer participants, instead of doing all in one as usual.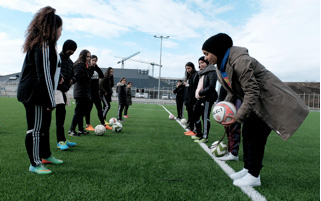 Karina: In the last months we had the experience that women in particular have been affected a lot by the COVID-19 crisis. Especially during the lockdown, when schools, restaurants and shops have been closed, girls and young women have had to stay at home and their duties to care for siblings or kids who are out of school have increased. The pandemic has caused a lot of economic and psychological pressure on socially disadvantaged families, which put girls and women at greater risk of gender-based violence.
For most of the women in our program it is very important to stay connected to their peers. Even if sport activities are restricted for a while we offer several online activities which support mutual exchange during the crisis. Furthermore, our coaches and supervisors offer online counselling hours regarding problems in schools, at work or within the family.
Karina, we know that Kicken Ohne Grenzen has been selected to be one of the sport for development projects working with the UEFA Foundation for children in 2021. Congrats! Can you tell a bit more about this project? What do you expect to achieve through this recognition?
Karina: The last year showed us that the future is going to be extremely complex and unpredictable. Social skills, like resilience, teamwork, problem solving, etc., will get more relevant. Kids from underprivileged communities very often don't get the support they need at home and miss after school activities, where they would be able to train and develop those skills. Studies have already confirmed that social differences and psychological problems in these families will increase due to the COVID-19 crisis. With our Life Goals program – funded by the UEFA Foundation for children – we help kids to develop their skills and potential in schools by offering football-based soft skill training. We help them build up self-esteem and give those kids a sense of achievement, instead of negative learning experiences. Additionally, they learn about their strengths and potential developing areas, which will help them cope with the challenging situations they might face in the future.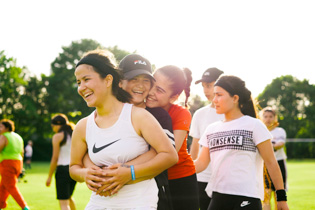 Nagin, congratulations on winning the Danish Girl Prize 2020! Can you tell about this award and why you think you have been selected?
Nagin: Thank you! The award pays tribute to an individual, organisation or company that is making an extraordinary effort in the field of gender equality by contributing to changes in attitudes and by taking initiatives that can promote gender equality.
I think that the panel just liked the fact that I was not just another woman with another typical message or political agenda. I think they recognised me for my practical work and the many hours I have invested in actually making a difference in the field instead of standing outside of it and hoping that some government will take responsibility. I took it upon myself. I followed through with creating this whole female soccer department in a club where there was none. I started from scratch and before I even recognised what I had achieved, somebody else recognised it for me. For that I will always be grateful!