Gerlev Sports Academy raises over DKK 200,000 to support Ukrainian families
12/04/2022
Gerlev Sports Academy (translation by ISCA)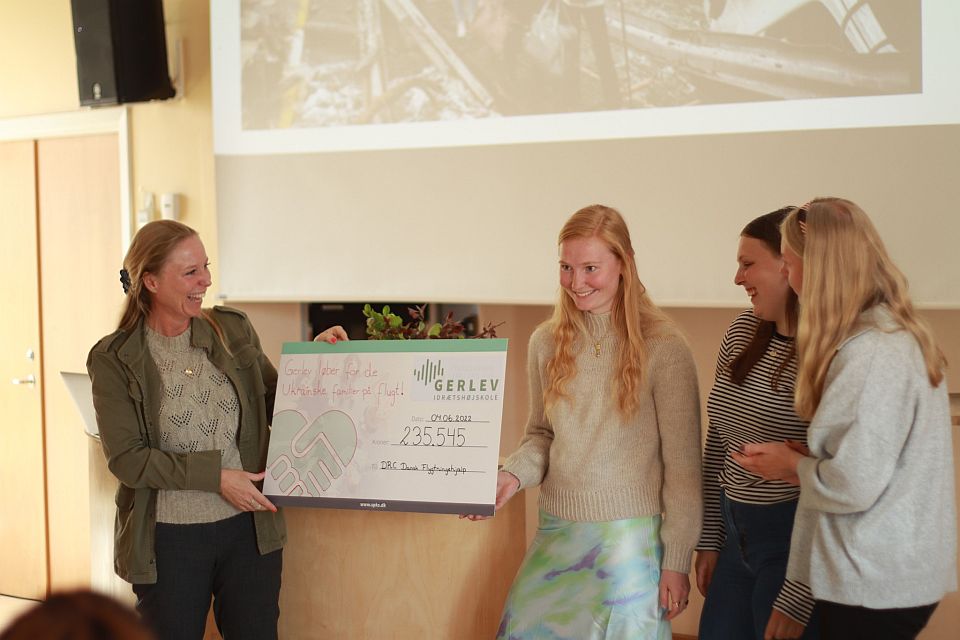 After a week packed with fundraising activities across the school, Gerlev Sports Academy's fundraiser for Ukrainian refugee families culminated on Saturday night with the largest amount being raised to date - 235,000 Danish kroner (31,600 euro).
235,000 is a lot of money – money that can now be sent directly and in full to the Danish Refugee Council and that is earmarked to help people fleeing the war in Ukraine. The funds were collected though, among other initiatives, a student auction and a mass participation 24-hour run, which covered over 8,200 kilometres in total.
24-hour run successful once again
This is the second time that the Gerlev Sports Academy has run for the community and to make a difference. In the spring of 2021, the students ran for the first time, when the sports adacemy students raised a total of DKK 148,000 to support Skælskør Julemærkehjem.
This year, the goal was to raise DKK 100,000 and run an average of 30km per student. However, the students ran far more kilometres than expected, and the donations flowed in. That's why the total amount ended up being as much as DKK 235,000.
"Wow, it's been a wild ride," says Morten Zacho, a teacher at the adademy and founder of the 24-hour race.
"Everyone has played an important role in getting the 24-hour event off the ground. It gives a sense of purpose and and hope when we feel each other's drive and motivation to help others." he continues.
"It is impressive that we have experienced such great support from near and far again this year. I am proud that, with the donations and the students' fantastic efforts, we can contribute to the Danish Refugee Council's efforts to help people fleeing the war in Ukraine. A big thank you to everyone who has contributed to our success in collecting such a significant amount."
Gerlev auction breaks records
Everything from kitchen duties, massages, "teachers as alarm clocks", hairdressing, personal poems, ironing shirts and piano lessons were up for auction when the students got the hammer out for the fundraising event.
The evening was nothing short of a huge success, fulled on by big laughs and big donations. In total, the auction brought in as much as DKK 23,960, which came exclusively from the students' own pockets. The auction, like the 24-hour race, broke all fundraising records - and the total fundriasing result has not gone unnoticed by the Danish Refugee Council:
"Thank you so much for the help and it's great to see these young people's commitment and creativity. Also a big a big thank you to everyone who donated. It is a lot of money – and every krone makes a difference to our work to help people fleeing the war in Ukraine," says project manager Jens Engedal.
Read the original article (in Danish) and find out more about Gerlev Sports Academy