MOVING Forward: A guide for practitioners in the field of sport for youth in emergencies
11/03/2022
Rolf Schwery, Schwerycade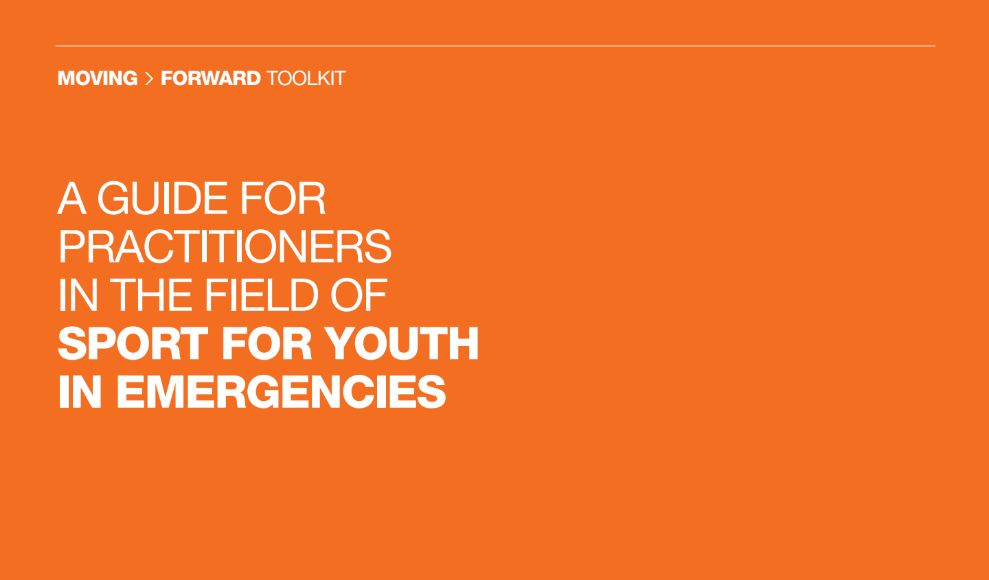 "Time and the space to play are among the first elements to disappear from the lives of young people in a natural disaster or emergency. In the immediate, often chaotic, aftermath, the focus is on the provision of food and essential items to ensure survival. However there is a growing recognition that the psychological, social and mental growth of children and youth requires more than proper nutrition, clean water and the prevention of deadly diseases (Bragin, 2005, 79).
In an emergency, the material needs of children and youth are often prioritised over interventions that address cognitive, physical, social and emotional development. Yet sports, games and play-based interventions can support children and youth in recovering from the trauma of a disaster by strengthening resilience and restoring healthy coping strategies. Such psychosocial programs can help children and youth to recover from the effects of displacement, disaster and war—addressing social, behavioral and psychological issues in group contexts while reducing stress and re-establishing a sense of normalcy."
The MOVING Forward toolkit was created by Integration of Refugees Through Sport Networking Platform expert partner and member Schwery Consulting (Schwerycade), International Network of Sport and Development Consultants (INSDC) and WarChild some time ago to advocate the need for phyiscal activity and play among children who are escaping from emergency situations in their communities and countries. The toolkit could not be more relevant today, as Europe again faces another unprecedented refugee crisis.
"The goal of the toolkit is to help young people to recover from the traumatic effects of emergencies by providing practical tools that support sport and play programming thus promoting healthy physical, social, emotional and cognitive development. Such targeted attention to youth is essential to the recovery and rebuilding of communities struck by disaster.
It is hoped that the application of these resources will provide further empirical evidence to support the use of this methodology as an effective tool to strengthen resilience in post-emergency settings. The toolkit has the added appeal of supporting mainstream approaches to emergency response programming.
Although the toolkit offers recommendations and guidelines for planning, implementing, monitoring and evaluating sport and play programs in postemergency settings, it is not a rigid programming model. The guidelines are intended to be flexible enough to enable adaptation to the specific context in which sportbased programs will operate."
ISCA and the IRTS Network has permission to re-publish this information about the toolkit here as a resource for professionals working with refugees in community sport and physical activity.