Bike for Europe pedals towards starting point with kick-off meeting in Greece
19/05/2018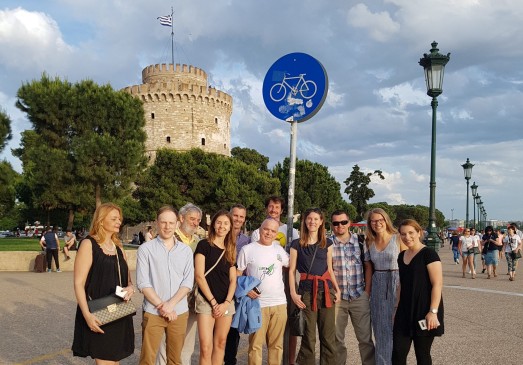 Bike for Europe, a cross-border cycling tour taking place from 1-23 September 2018 as part of the International Sport and Culture Association's NowWeMOVE campaign and the European Week of Sport, is moving closer and closer. Thessaloniki, Greece, the magical city from which one of the two Bike for Europe teams will be starting their journey towards Vienna, was the perfect location for a kick-off meeting between the main project stakeholders and partners.
The Bike for Europe cross-border cycling tour aim to tackle the physical inactivity crisis by promoting bicycles as a fun, healthy and sustainable means of transportation. We also want to highlight the power of physical activity, and active transport especially, can foster social inclusion by equipping disadvantaged minorities and socio-economically challenged groups with a means of free transport and to facilitate their participation in everyday life.
As one of the pillars of the European Union, freedom of movement is essential to a happy life, not only across national borders, but also within a city or a region. Cycling makes people more independent from expensive vehicles and at times inflexible public transportation systems.
These are also the reasons for ISCA's partners to have come to Thessaloniki for an intensive and productive meeting about the tour's planning, administration and implementation, as well as the flagship events – both on and off the tour route - of the Bike for Europe tour, which will travel through 11 European countries.
Michael Brennan, campaign consultant for the World Cycling Union (UCI), and Andri Panteli, Vice President of the Cyprus Cycling Federation, represented the official national and international cycling bodies. Also attending were: Mirko Radovanac, transportation expert; Dominika Bäuchelova, cycling event organiser; Ewa Anna Cichocka, communication manager for V4Sport Foundation; Tomasz Szkwarek, representing the city of Wroclaw, and Balazs Becsy, head of communication and events for the Hungarian School Sports Federation. These partners will be coordinating Bike for Europe and its flagship events in Serbia, Czech Republic, Poland and Hungary. Representatives of the city of Thessaloniki, the NowWeMOVE coordinators, and team leaders Georgios Farfaras and Feridun Eckmekci, together with ISCA staff, completed the list of those present at the meeting.
"I am very happy to have a team of such highly qualified and experienced event organisers and cycling experts, together with my skilled and passionate colleagues from ISCA, working together for a greater cause, more physical activity and social inclusion. The energy and involvement shown over the last few days in Thessaloniki made me even more confident that Bike for Europe will be a great success with a long lasting and sustainable impact on many Europeans joining in both the tour and its events throughout Europe," says Laura-Maria Tiidla, ISCA Project Manager for the Bike for Europe tour.
The team had a chance to visit a number of potential sites where the kick-off event could take place, and the knowledge exchange between the on- and off-route organisers that took place over the days spent in Greece was of great value for our preparations leading up to the start of the Bike for Europe tour on 1 September 2018.
The Bike for Europe tour is an official event of the European Week of Sport and is supported by the EU as an Erasmus+ Sport Not-for-Profit event.
#BikeForEurope #BeActive #CyclingForAll