Sharing is caring: a mindset that creates better opportunities
Interview with Martyn Rijkhoff and Katerina Salta
04/03/2021
Interview by Maria Malyshkina, ISCA
We continue with our series of interviews with the participants of the Integration of Refugees Through Sport (IRTS) mentoring programme. This month, we talk to Martyn Rijkhoff (Project manager, Stichting European Football for Development Network (EFDN), the Netherlands) and Katerina Salta (Co-founder/Manager, Hestia FC, Greece). We asked them about the expertise they are bringing into their mentoring relationship, the pandemic's influence on their work and also about working and volunteering in the humanitarian and football sector.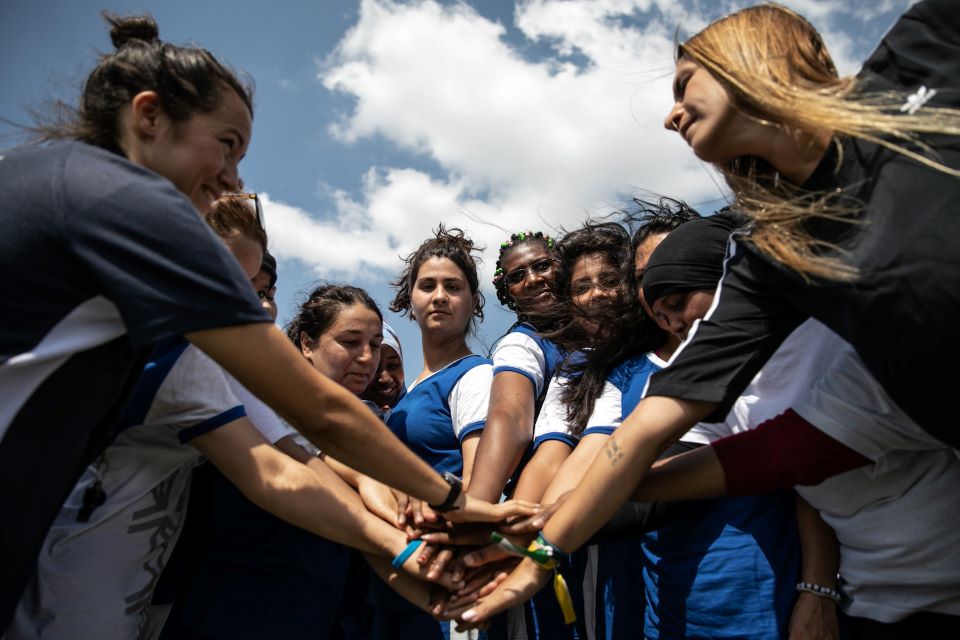 What do you think the 'secret' is to a good mentoring relationship?
Martyn: Trust and respect towards each other are important for a good mentoring relationship. Furthermore, I believe it is also very important that both sides have a mutual agreement on what both sides want to achieve. This was pretty easy with Katerina as we share the same interest on the topic of how to integrate more women and girls into refugee programmes. At the end this is a two-way process where it is not only the mentee who learns from the mentor but also the other way around.
Katerina: As in every relationship, many elements are necessary to build a good mentoring relationship. It has to be based on trust, confidentiality, mutual respect and sensitivity. In my opinion, honesty, ability to listen, good communication, preparedness, objectivity and fairness are among the keys of building such a relationship. And mostly, it is a vice-versa relationship. The mentor also has the opportunity to gain new knowledge from the mentee. The mentor and the mentee have to cooperate as equal partners; this way both sides will gain much more and they can set common targets – in our case, we have already achieved this with Martyn.
What encouraged you to become a Mentor for this IRTS initiative and what expertise are you bringing with you? What types of things do you expect to learn – about yourself, your preferred mentoring style or mentoring in general?
Martyn: After presenting our EFDN project – Welcome through Football – to Saska Benedicic Tomat and being introduced to the IRTS Refugee Mentoring Programme I believed it was a great initiative from ISCA to share best practices and knowledge with other organisations who are operating in the same field.
With a mindset of "Sharing is caring" and having a few years of experience in the Sports & Development industry and Monitoring & Evaluation, I'm always interested to get in contact with other colleagues in this field and share valuable content with other relevant organisations. In the end, it is not about a competition between different organisations to run the best project, but how can we work better with refugees and asylum seekers to create for them better future opportunities.
It is hard to say what my mentoring style is, perhaps it is better to ask Katerina, my mentee, but I always try to be open-minded, helpful and understand the need of the mentee and try to support them the best way possible.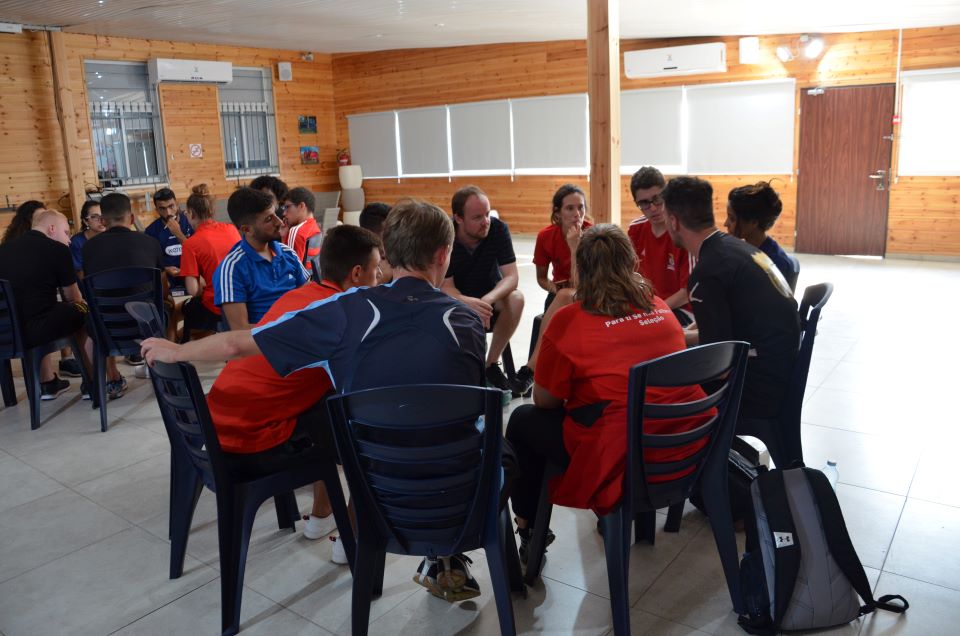 What kind of skills are you aiming to develop and goals to achieve with the help of the mentorship? What have you learned from your Mentor Martyn so far?
Katerina: I am aiming to expand my existing skills and to develop new ones. The sustainability of the programmes I manage is my main target. In order to achieve it, Monitoring & Evaluation as well as fundraising are crucial and we are working with my mentor towards these goals by exchanging best practices, by creating a new Theory of Change to engage more girls and women in sports, by joining workshops, seminars, webinars.
Until now, my mentor has supported me to become more specific with my goals, he has shared with me material regarding Monitoring & Evaluation as well as the Theory of Change and he has included me in relevant webinars.
Your mentoring pair has a strong interest and expertise in Monitoring & Evaluation. How do you measure the impact of your work?
Martyn: This is a tough question to answer in a few sentences as it always depends on the impact you want to achieve, what the actual problem is, which target group you are working with and what the objectives and aims of the project are as well and what kind of related project it is. Based on this we create an M&E framework with indicators, data source, frequency, outputs, outcomes to name a few.
For the collection of quantitative data, we are working with our partner Upshot, who provides an online M&E tool for all our project partners to collect and register their data into the system in which we can create reports for grant decision-makers, local authorities, etc... In my eyes pre- and post- questionnaires are a good way to measure the impact of our programmes, but here again, it depends on the programme and topic.
For qualitative data, we normally create case studies, interviews, questionnaires with open questions or creating videos about the impact of the work based on story-telling.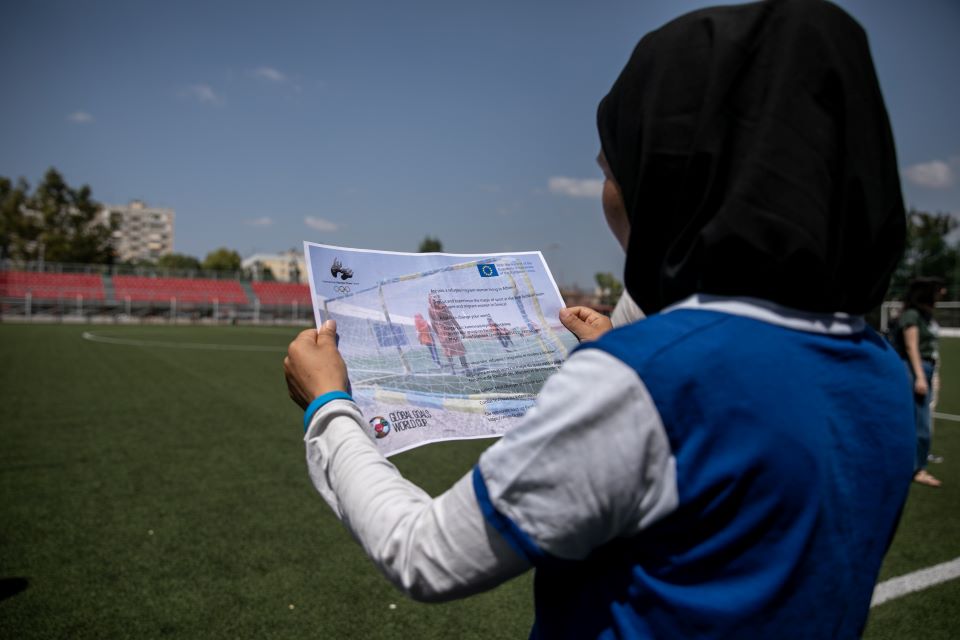 Katerina: In terms of qualitative data, we would collect the percentage of participants who express reduced sense of social isolation and strengthened friendship networks; increased self-esteem and self-confidence; increased leadership skills, sport skills; improved social skills; increased commitment to education and employability; increased trust and a sense of community responsibility; understanding of, and commitment to, gender equity; and positive attitudes about the future and improved aspirations.
The feedback is obtained through before and after surveys (registration-completion of the programme); self-completion questionnaires; face-to-face interviews; training pre- and post-tests; and group discussions with participants, staff and volunteers. Additionally, data from the stakeholders are collected.
When measuring the impact of work in the IRTS Mentoring Programme, we have agreed that we will create a survey to monitor and evaluate our collaboration.
How has the pandemic changed the scope of work of The European Football for Development Network (EFDN)? What kind of adjustments has the pan-European network made to engage with its international members?
Martyn: The outbreak of COVID-19 had quite an impact on the way we normally work with our EFDN members and deliver the projects throughout Europe. One of the major changes was that we currently have to deliver everything online. Our bi-annual EFDN Conference is being delivered as a hybrid-event, seminars are held online, and due to the current situation, we had to make changes in our projects and/or create alternative activities which could be delivered online to participants who are engaged in our programmes.
Besides the daily operation, we created the #Supporter of each other camp with the intended goal to inspire people, players, clubs, fans, clubs, leagues and FAs to support each other to overcome the current COVID-19 crisis. In total, we reached around 9 million people. Furthermore, we support our EFDN members with the delivery of their programmes and try to give them advice about what they could deliver during the pandemic.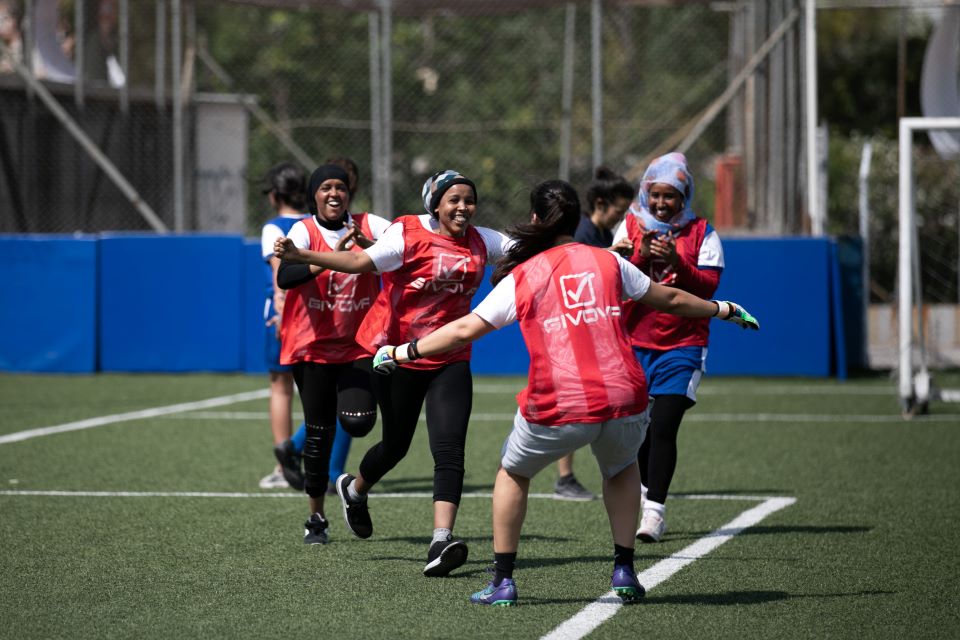 Could you share your story of how you ended up working in the humanitarian and football sector? What advice would you offer to others who would like to build their volunteering into a career?
Katerina: As far as I can remember myself, I have always been a volunteer. For everything: the environment, animals and of course people. When thousands and thousands of refugees and asylum seekers started arriving in Greece, I felt the needed to do something about it. I started as a volunteer in the island of Lesvos in October 2015. I continued volunteering in different places for 8 months. I had never thought that I would work in the humanitarian field. But it did happen. In May 2016 I was hired as Programme Director by the Greek NGO "Organization Earth" and basically we started a new pillar within the organisation to support refugees and asylum seekers. Most of the programmes I designed and managed during the 2 ½ years I worked for OE were non-formal educational programmes, 8 of them were football ones. I got amazed by the impact of football, how it could transform lives, especially how much it could support vulnerable people. Therefore, I decided to focus on the sport for development, sport for protection sector.
From my point of view, volunteering is not an opportunity to find a job, to build a better CV, to make impactful connections, to fill in employability gaps. Of course all the above are possible, I am an obvious example, but this was not my motivation. Volunteering is about making a significant difference. Our actions as volunteers are crucial for vulnerable persons' lives, so it has to come from the heart. It's all about love for me, love for others. Nevertheless, if someone is eager to build his/her volunteering into a career, I would advise to be committed, try hard, never give up and study-study-study!